Updated: October 15, 2011, 3:08 PM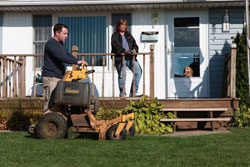 When soldiers go off to war, the responsibilities at home do not go with them.
Loved ones left behind are expected to cover the domestic bases, but it can be a daunting task. That's where some volunteers have stepped in.
In the Buffalo Niagara region, two landscapers have been mowing grass and plowing snow for free through a national program -- Project Evergreen's GreenCare and SnowCare for Troops.
Local military families cannot say enough good things about Joe Mattucci and Judy Weigand.
"My husband and daughter were deployed at the same time this past summer, and I could not have done it all by myself. That is all that there is to it," said Town of Tonawanda resident Lorraine Starr.
Every week, Mattucci's three-member crew mows, trims and edges her lawn.
"When I called Mr. Mattucci to tell him my husband, David, was coming home from Afghanistan and he didn't have to mow the grass anymore, he told me to tell my husband thank you for his service and to rest. He would finish out the season because my husband deserved the rest," Starr said, amazed at Mattucci's kindness.
Mattucci, of Mattucci Design in Kenmore, is assisting three families with lawn care this year and has helped several others in past years.
"It's a good feeling for us to give back to military families," he said. "We try to do as many as we can, and we haven't turned anyone down yet."
When the snow flies, he hopes officials at SnowCare will link him up with military families in need of snow removal.
"Our military needs to know that their families are supported at home while they are on active duty fighting for our freedom and the freedom of others," said Joy Westenberg, who manages the national programs. "To date, there are more than 12,000 military families that have registered and 3,400 volunteers."
Corporate sponsors of the programs are Cub Cadet for the lawn side and Boss Snowplow for snow removal, Westenberg said.
"This is my sixth year, and I have talked to thousands across the nation, and it is such a help. It is a burden lifted," said Westenberg, who lives in Minnesota.
Like Mattucci, Weigand goes the extra mile in assisting families.
Just ask Patricia Richeal of North End Avenue in Kenmore.
When her grandson, Marine Corps Gunnery Sgt. Adam Brown, was deployed to Afghanistan last year, his wife and infant son came to live with her and her husband, William, who are both 71.
On days with persistent snowfall, Weigand was no stranger.
"If we had a real bad snow day last year, and it did snow a lot, she would be here two or three times the same day. I'll tell you she was good," Richeal said.
When Brown returned home last June, Weigand installed a sign.
"Welcome Home Gunnery Sgt. Adam Brown," read the lighted sign on the Richeal front lawn.
That spurred a blizzard of good will in the neighborhood.
"Everybody honked their horns. People would even drop stuff off, beer, thank-you cards, a lot of thank-yous," the grandmother said.
Weigand, who runs Judy's Landscaping in the Town of Tonawanda, says she learned of the volunteer program when ordering parts online from Boss Snowplow's website.
"I noticed they were looking for volunteers. I just wanted to help," she said.
And what is it like to provide free snowplowing for the families of deployed service members?
"At 3 in the morning, the conditions can be horrible, but I just don't give it a second thought. At the end of last season, I got a beautiful card from one of the families," Weigand said.
To apply for the free services, military families are required to register online. For grass-cutting, the website is projectevergreen.com/gcft; for snow removal, it's projectevergreen.com/scft.
lmichel@buffnews.com